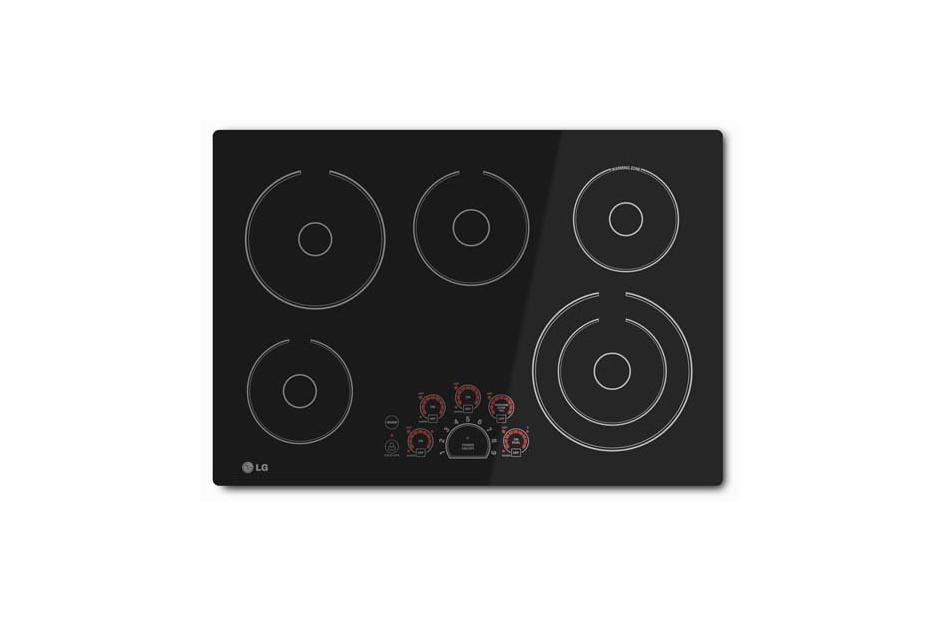 30" Electric Cooktop
Shipping Information
Free US shipping on all orders $1000 or more.
Estimated delivery in NY/NJ area is 3-5 business days.
7-14 days for all other locations in the 48 states.
Main Product Features
Stylish Design
SmoothTouch™ Controls
Warming Zone
Triple Cooktop Elements
STYLE AND DESIGN
LG's premium 30" & 36" cooktops offers the perfect harmony between style and convenience.
Intuitive
Easy to use with just a touch. At a quick glance of the centralized electronic controls users can see which heating element is activated and the smooth surface easily wipes clean.
ADA - Compliant Electric Cooktop*
To be considered ADA-compliant, an electric cooktop must have a maximum high forward reach for controls and operating mechanisms is 48", maximum low forward reach is 15".
APPEARANCE
All Available Colors
Black
Surface/Trim Color
Black
COOKTOP
Element Size and Wattage
9
Hot Surface LED Indicator
Yes
CONTROLS
Automatic Safety Shut-Off
yes
Control Location
Front Center
Control Type
SmoothTouch™
SmoothTouch™ Controls
Yes
DIMENSIONS/CLEARANCES/WEIGHT
Depth
21.46"
Height
4"
Width
30.84"
OVEN FEATURES
Steady Heat Technology
Yes
Warm Function
Yes
POWER/RATINGS
Electric Supply
240V/208V, 60Hz AC
Max. Amp Load
240v 32.1 amp, 208v 27.9 amp
Power Cable Location
Right Rear
Total Connected Load
7.7kW @ 240V, 5.8kW @ 208V
SUMMARY
Fuel Type
Electric
VENTING SYSTEM
Vent Air Flow (CFM)
5
WARRANTY/UPC
Limited Warranty
1 Year Warranty
Warranty
1 Year Warranty