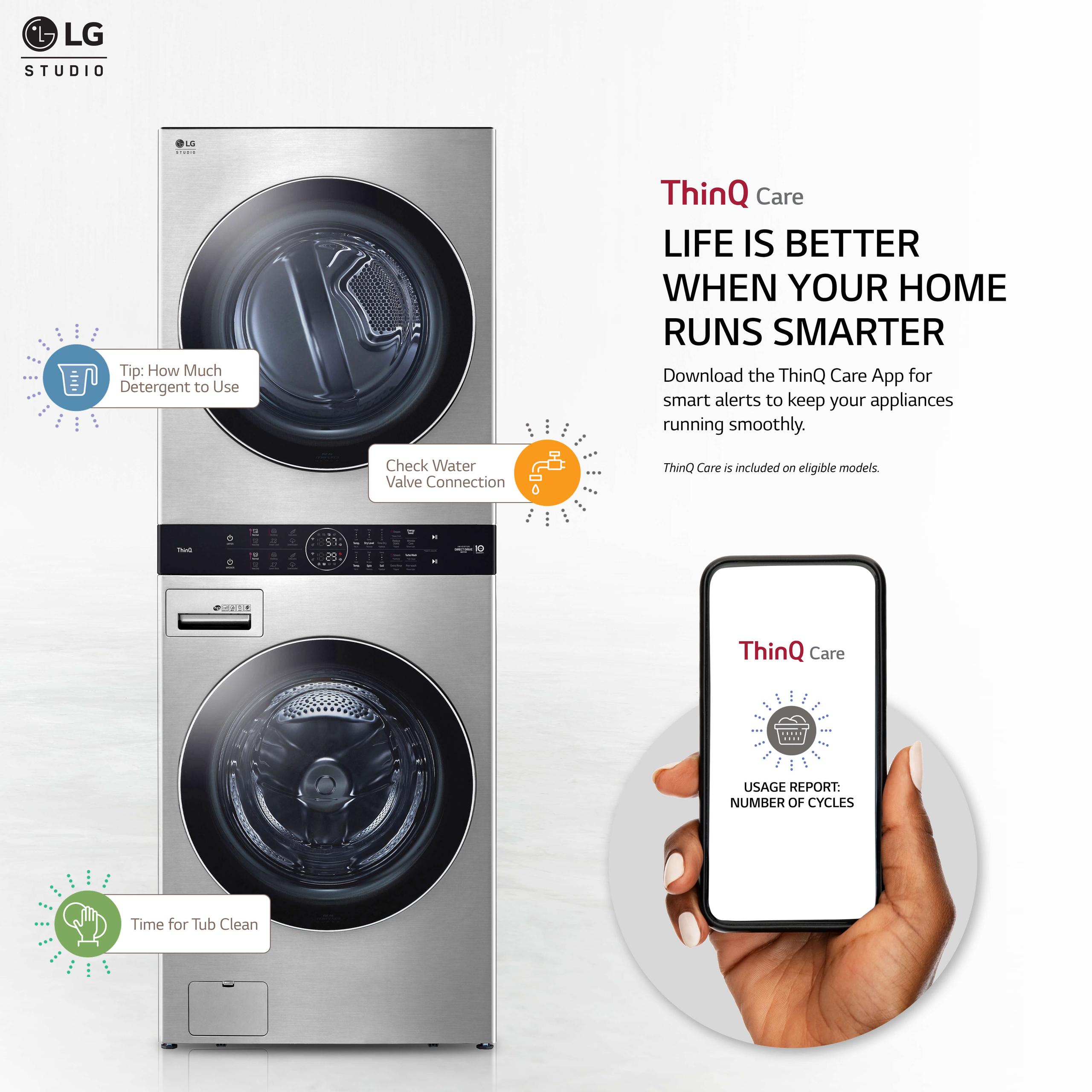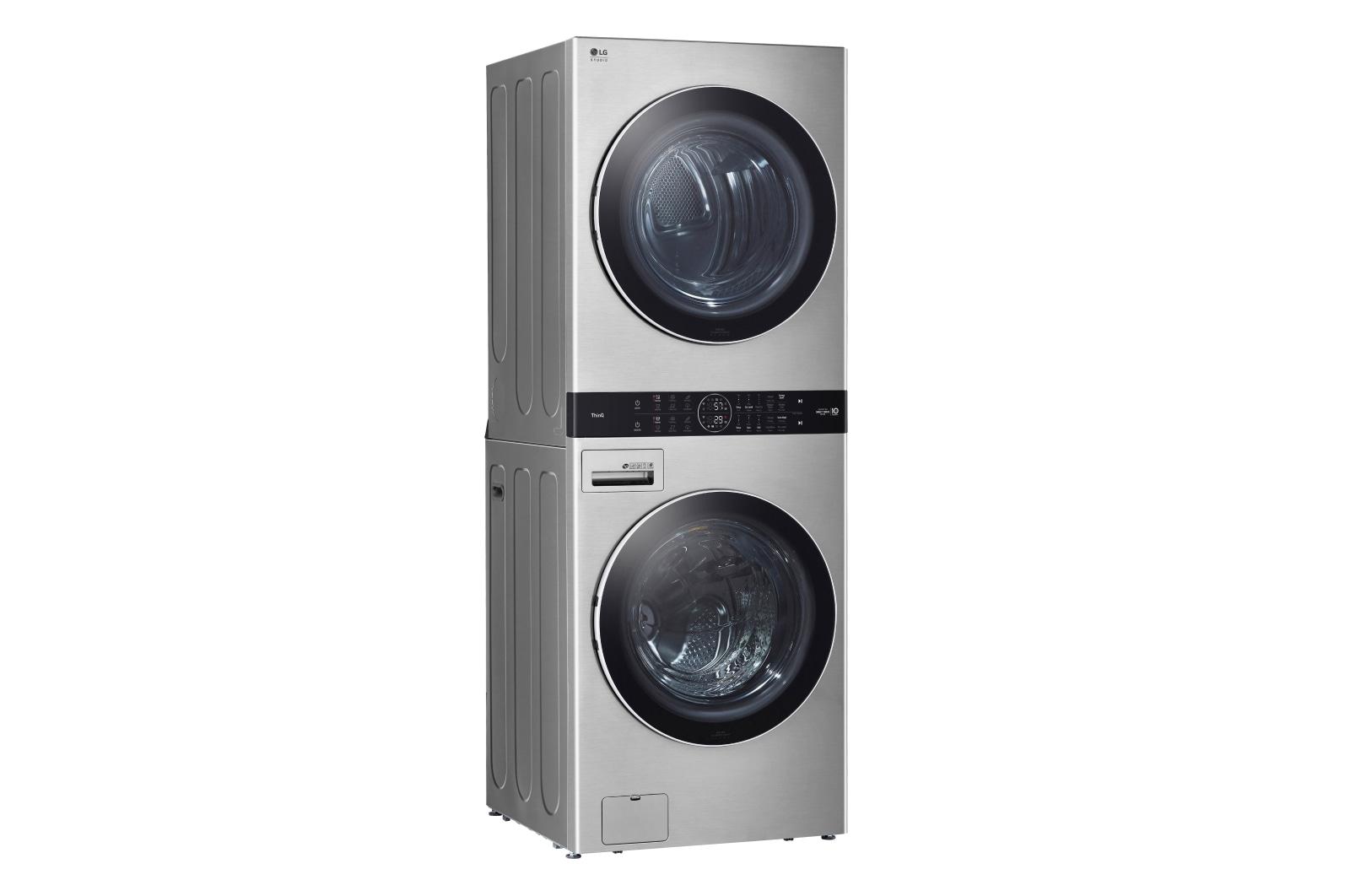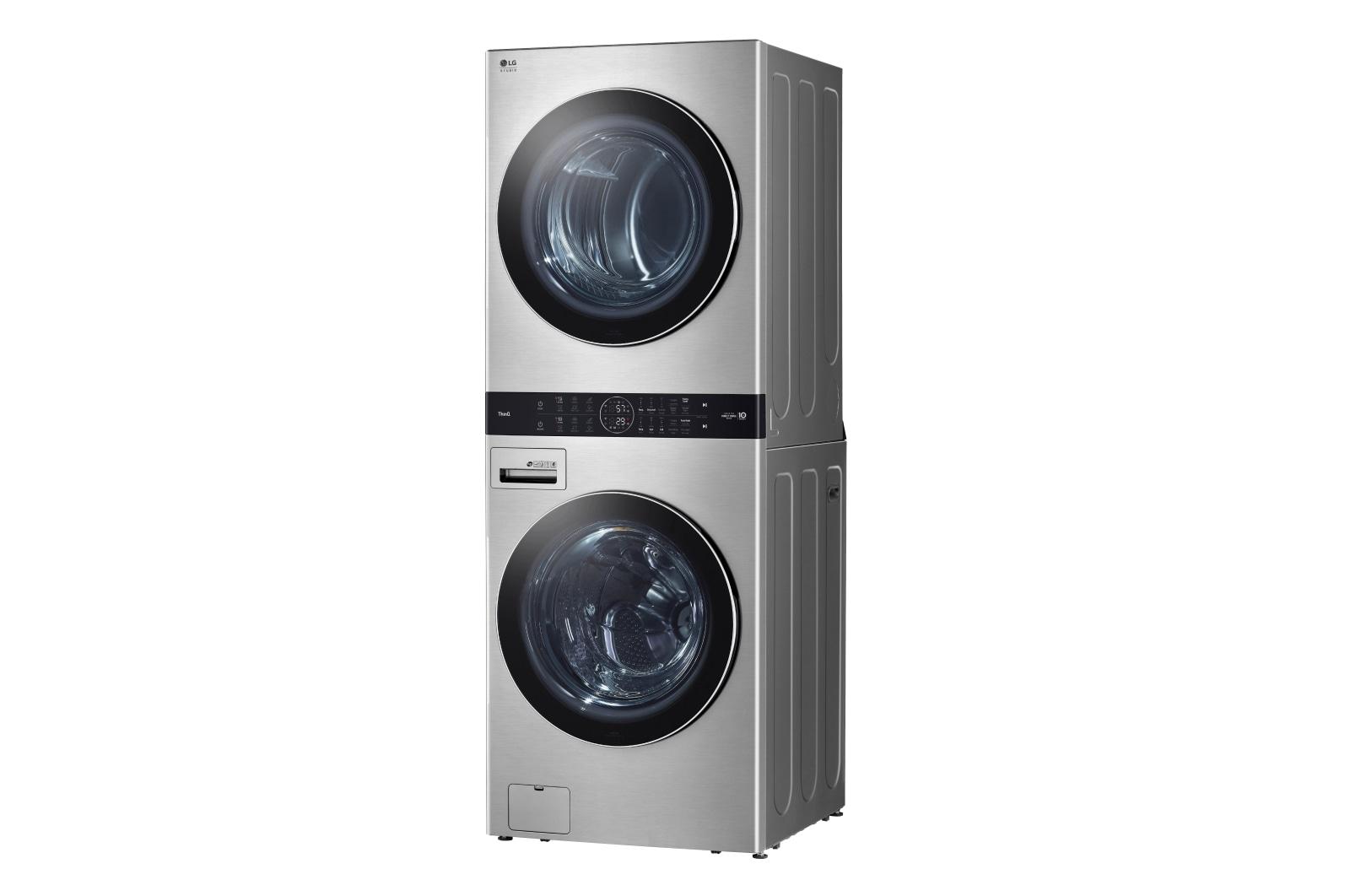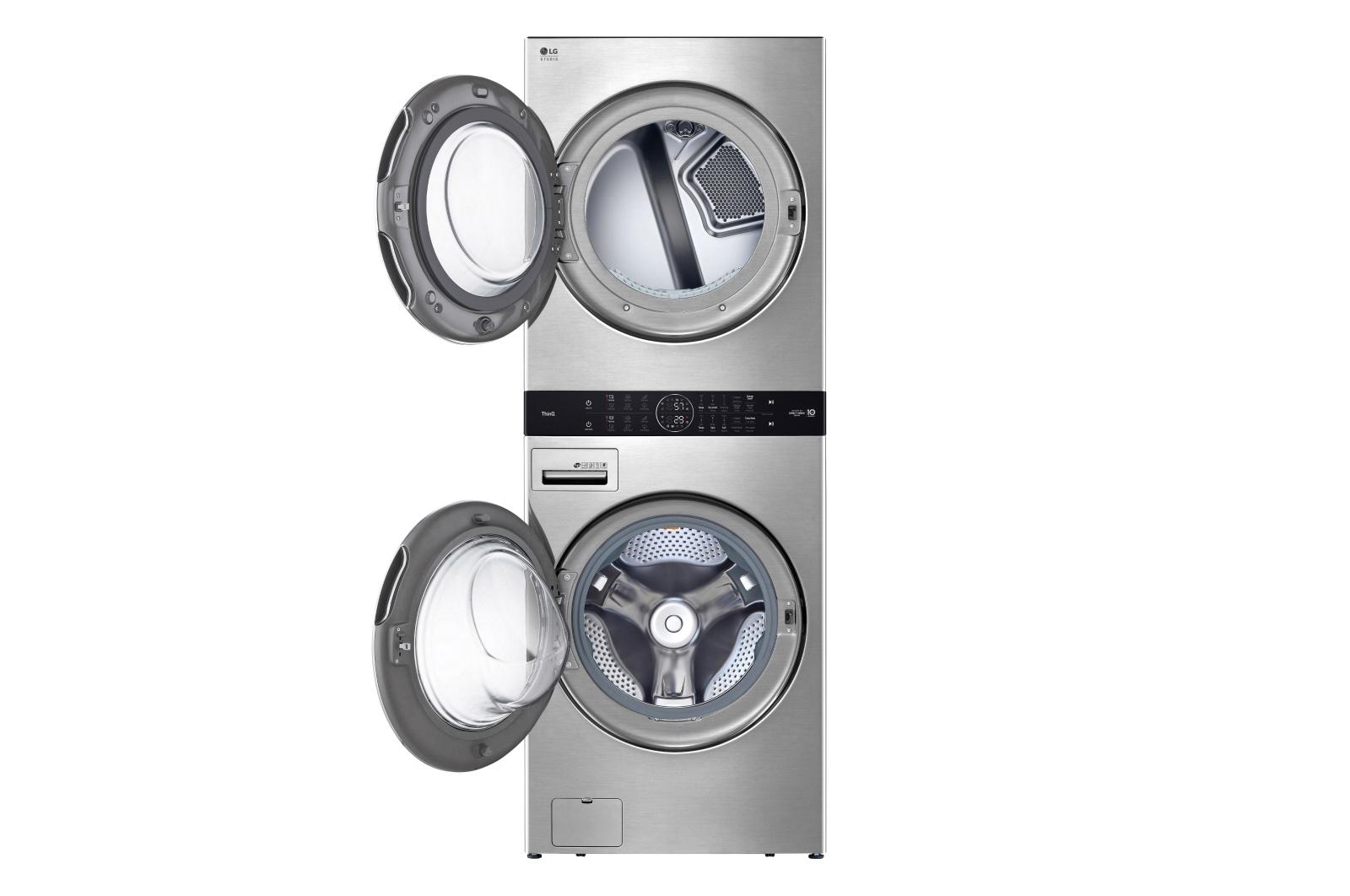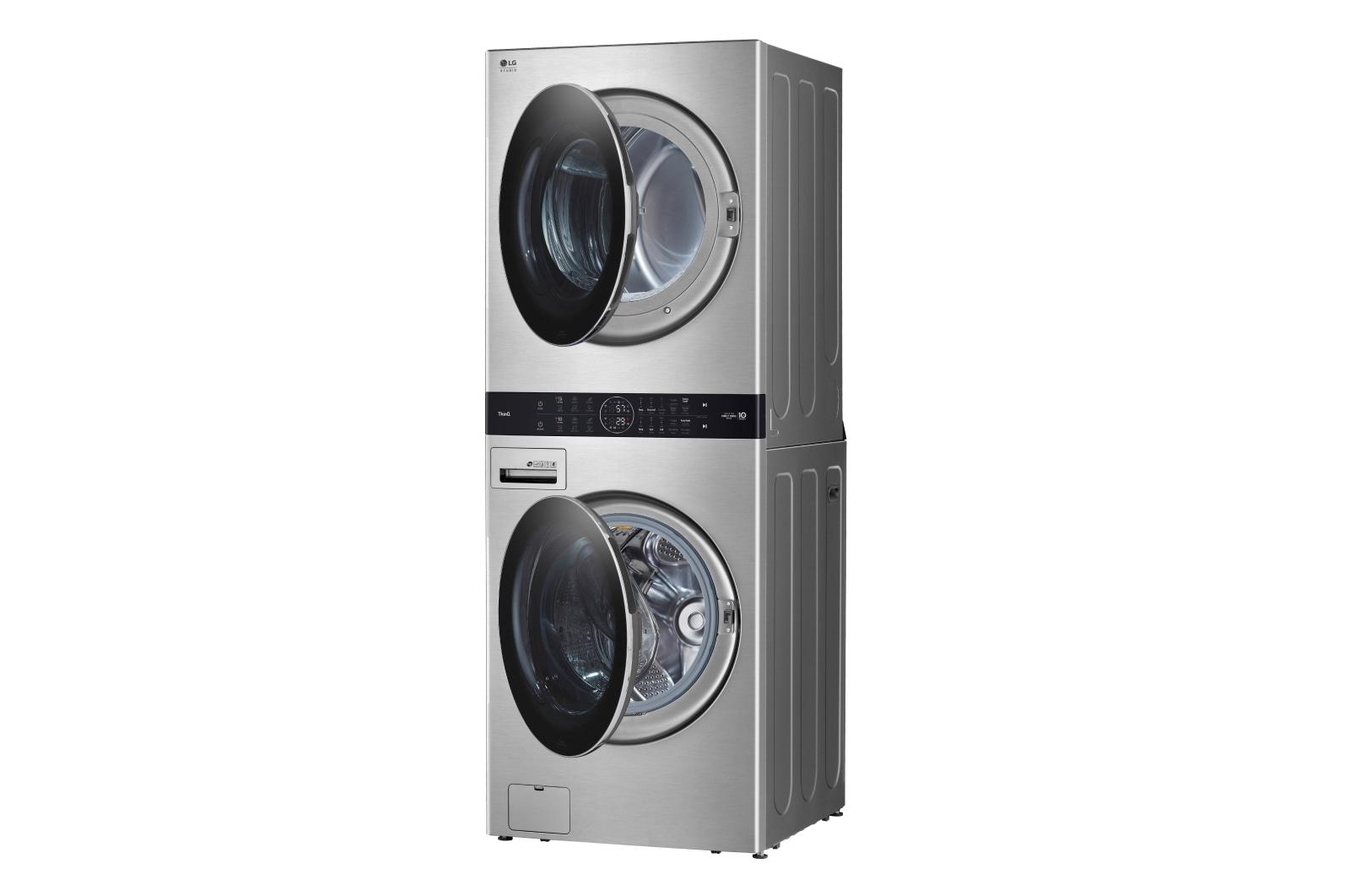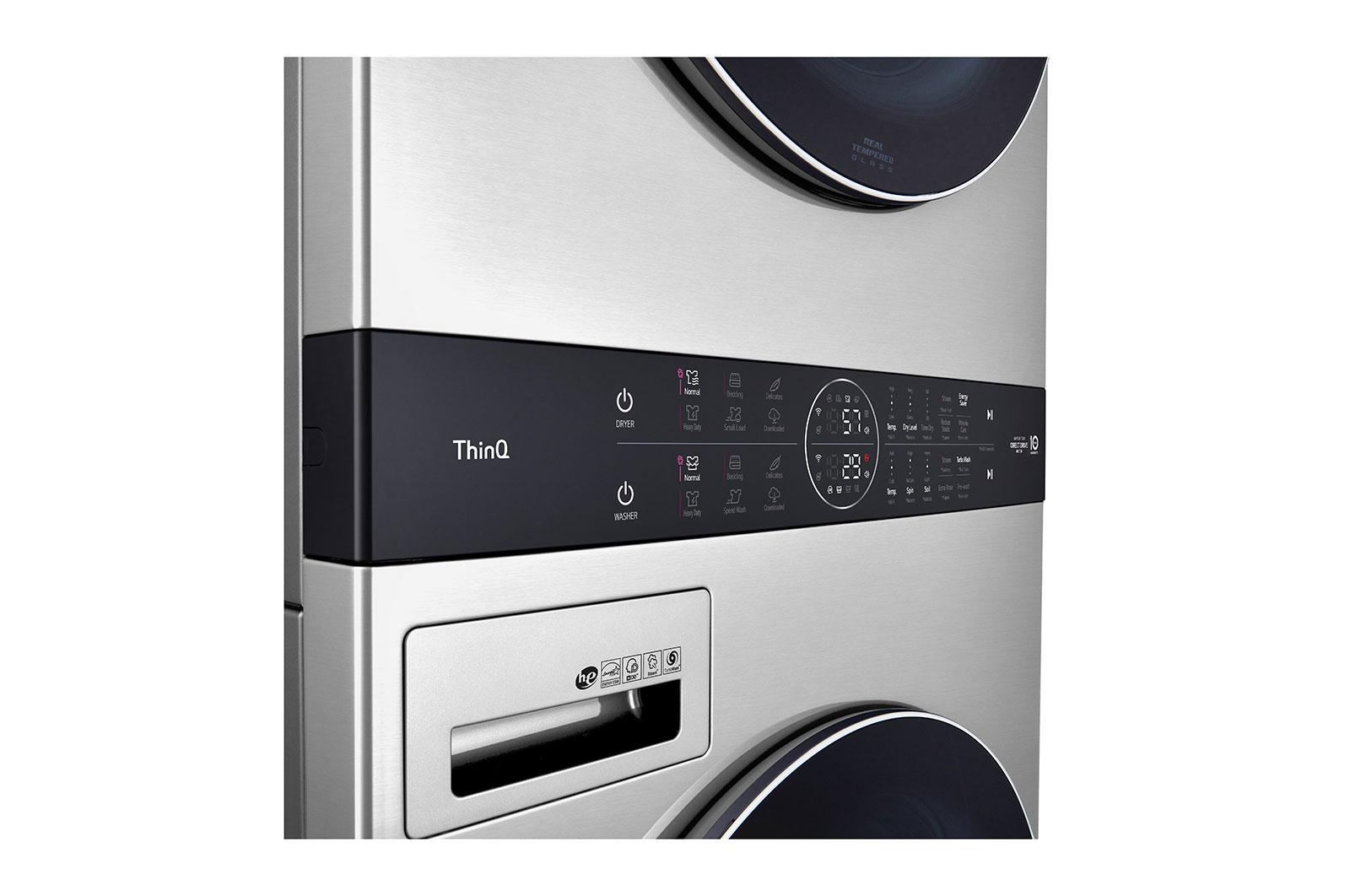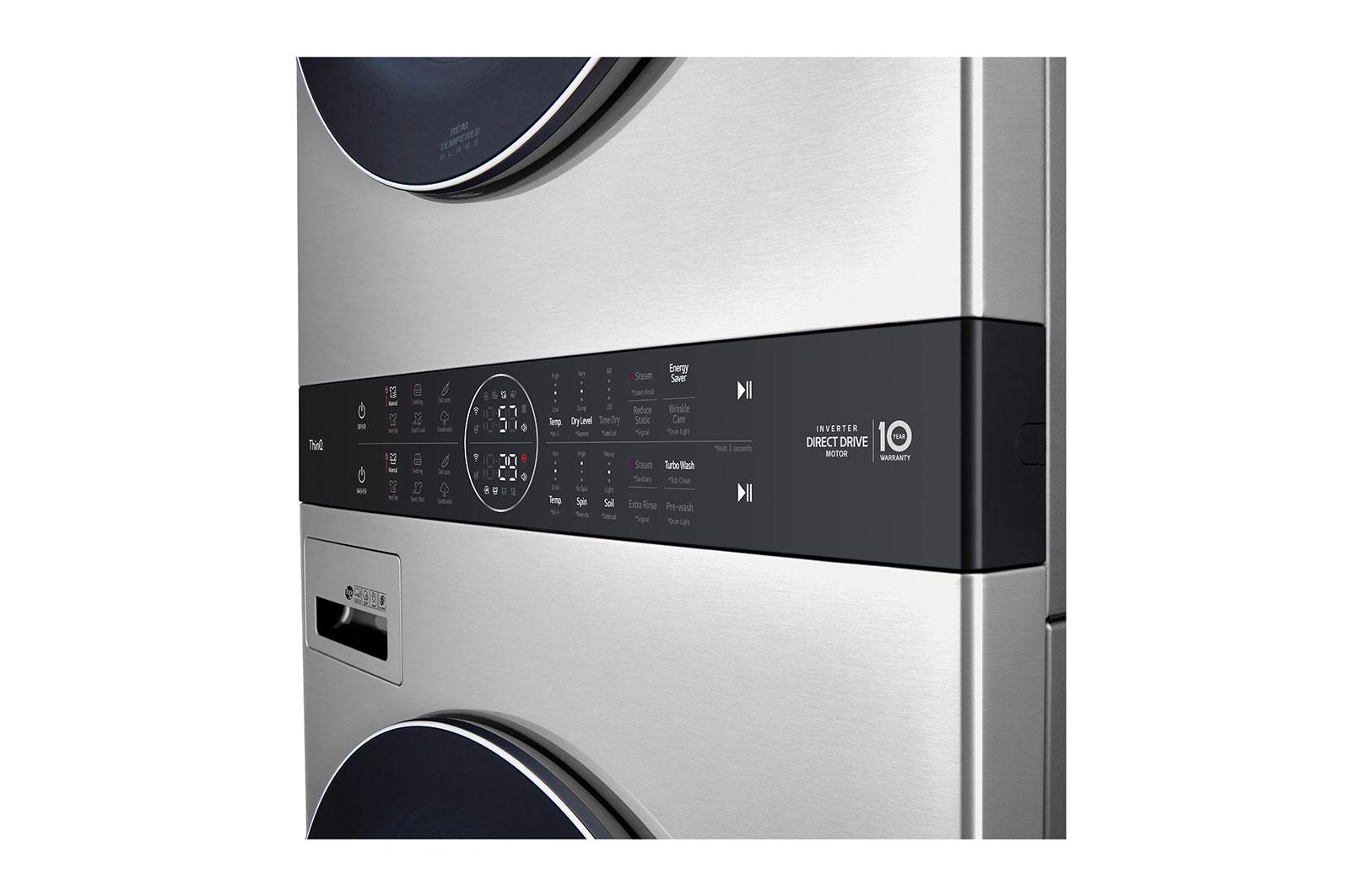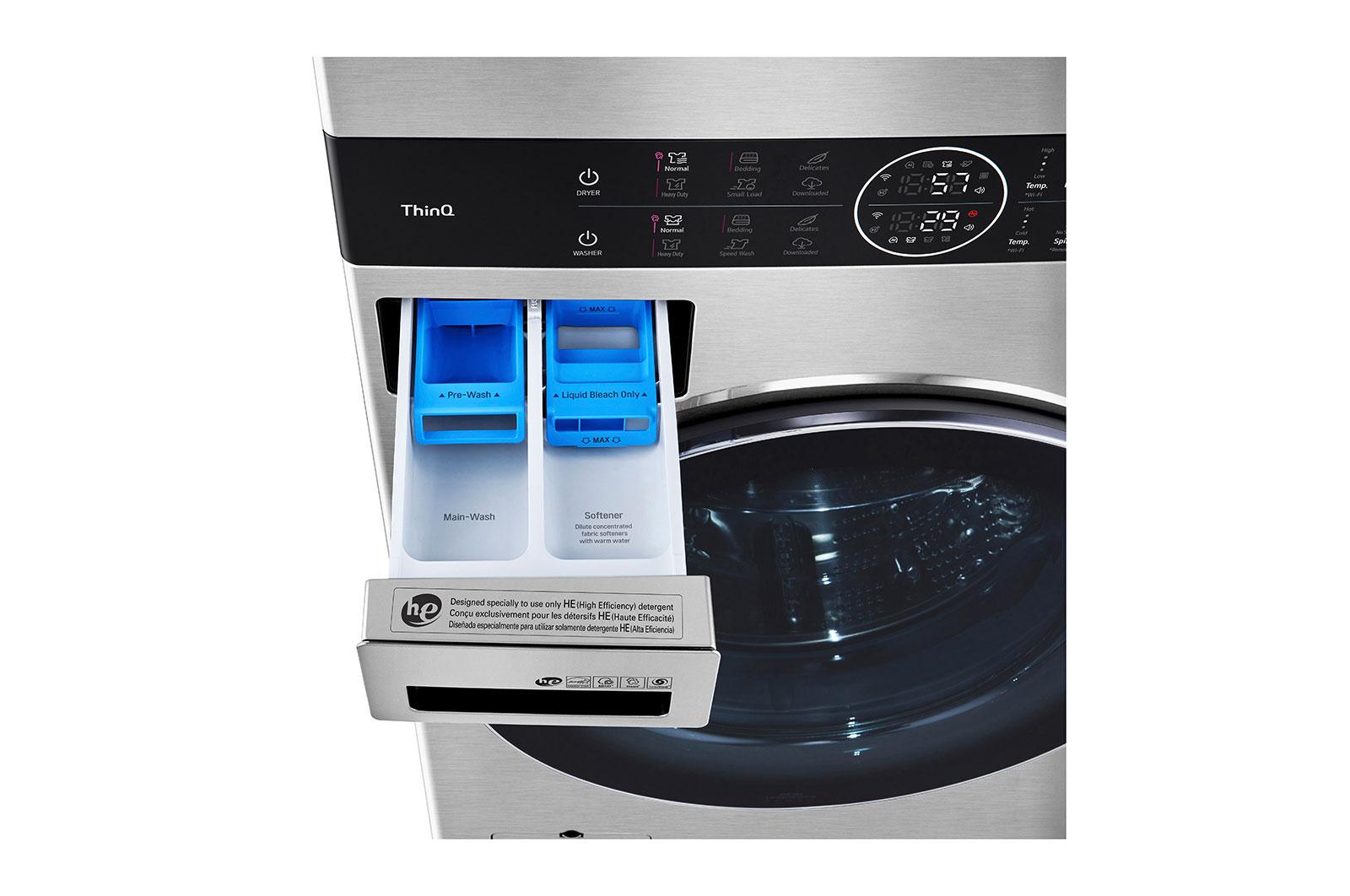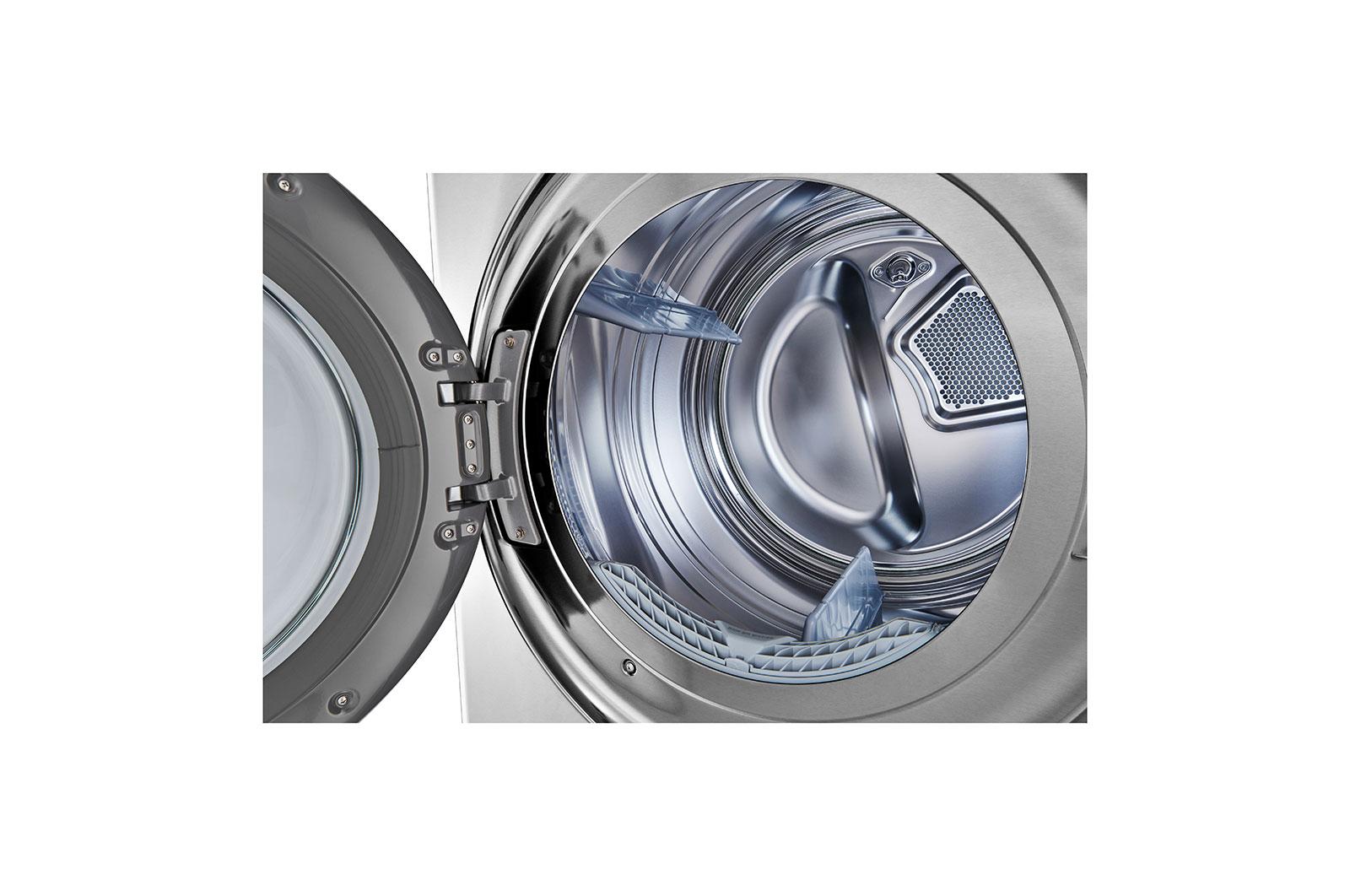 LG STUDIO Single Unit Front Load WashTower™ with Center Control™ 5.0 cu. ft. Washer and 7.4 cu. ft. Electric Dryer
Discontinued
Shipping Information
Free US shipping on all orders $1000 or more.
Estimated delivery in NY/NJ area is 3-5 business days.
7-14 days for all other locations in the 48 states.
Main Product Features
Ultra Large Capacity 5.0 cu.ft. Washer and 7.4 cu.ft. Dryer
Single Unit WashTower™ Design
Built-In Intelligence - AI Fabric Sensors/Smart Learner/Smart Pairing™
Advanced Washing & Drying - TurboWash™ 360(degree)/Allergiene™ wash cycle/ TurboSteam™
ThinQ® Technology with ThinQ Care
Tempered Glass Doors
Reinvent your laundry routine in half the floor space
Elevate your space and step up your routine with a premium vertical laundry solution that makes laundry feel easy and look good.
Advanced cleaning within reach
LGs exclusive Center Control™ panel gives easy access to built-in intelligence & advanced cleaning.
The largest capacity yet means you can do less
Beauty meets function with LG STUDIO's large 5.0 cu. ft. washer-so you get more done in fewer loads.
Breathe easy. It's AAFA® Certified.
AAFA-certified LG washers with Allergiene™ use steam to remove over 95%* of pet dander and dust.
Upgrade to the high-end fabric care you deserve
Add LG STUDIO Styler to your space and enjoy the ultimate laundry solution-refresh, deodorize, sanitize and more.
Measure First, Order Right.
Nothing is more frustrating than an appliance that doesn't fit. We'll help you find the right one for your space.
Life's better when your home runs smart
Discover ThinQ Care within the ThinQ app -- proactive smart alerts to keep your appliances running smoothly. Get notifications about usage, maintenance, plus early diagnosis right on your smartphone.*
SUMMARY
Series
LG STUDIO
Type
Single Unit Front Load Washer and Dryer
Capacity (cu.ft.) :
Washer 5.0 cu. ft./Dryer 7.4 cu. ft.
Gas Dry Option:
WSGX201HNA
Color
Noble Steel (N)
APPEARANCE:
Touch Buttons
Yes
Full Touch Electronic Control Panel with LED Display
Yes
Unified Center Control
Yes
WASHER ENERGY:
ENERGY STAR® Qualified
Yes
CEE Tier
Advanced Tier (Tier3)
IMEF
3.1
IWF
2.9
DRYER ENERGY:
ENERGY STAR® Qualified
Yes
CEF
3.94
WASHER PROGRAMS:
No. of Programs
6
Programs
Normal, Bedding, Delicates, Heavy Duty, Speed Wash, Downloaded
DRYER PROGRAMS
No. of Dryer Programs:
6
Programs
Normal, Bedding, Delicates, Heavy Duty, Small Load, Downloaded
WASHER OPTIONS:
No. of Options
13 (Include 3 basic options)
Options
TurboWash®, Steam, Extra Rinse, Pre-wash, Sanitary*, Tub Clean*, Drum Light*, Control Lock*, Signal*, Wi-Fi*/Remote Start*
DRYER OPTIONS:
No. of Options
12 (Include 3 basic options)
Options
Wrinkle Care, Steam, Reduce Static, Energy Saver, Steam Fresh*, Drum Light*, Control Lock*, Signal*, Wi-Fi*/Remote Start*
WASHER DETAILS:
No. of Wash/Rinse Temps
5
Wash/Rinse Temps
Hot, Warm/Hot, Warm, Cold/Warm, Cold
No. of Spin Speeds
5
Spin Speeds
High, Medium/High, Medium, Low, No Spin
Max RPM
1300
Water Levels
Load Sensing
No. of Soil Levels
5
DRYER DETAILS:
Temperature Settings
High, Medium/High, Medium, Low/Medium, Low
Drying Levels
Very, More, Normal, Less, Damp
Manual Dry Times
60min., 50min., 40min., 30min., 20min.
WASHER FABRIC CARE FEATURES:
AI DD™
Yes
TurboWash™ 360 Technology
Yes
Steam Technology
Yes
Allergiene™ Cycle
Yes (Cloud cycle)
Sanitary Cycle
Yes
SenseClean™ System
Yes
DRYER FABRIC CARE FEATURES:
AI Sensor Dry™
Yes
Sensor Dry
Yes
Precise Temperature Control with Variable Heater
Yes
Steam Technology
Yes (TurboSteam™)
WASHER CONVENIENCE FEATURES:
TrueBalance™ Anti-Vibration System
Yes
4 Tray Dispenser
Prewash, Main Wash (with liquid detergent cup), Bleach, Fabric Softener
LoDecibel™ Quiet Operation
Yes
End of Cycle Signal
Yes
LoadSense
Yes
Control Lock
Yes
Auto Suds Removal
Yes
Leveling Legs
4 Adjustable Legs
Easy Loading TilTub™
Yes
Drum Light
Yes
Remaining Time Display/Status Indicator (s)
Yes
DRYER CONVENIENCE FEATURES:
3 Minute Installation Check
Yes
LoDecibel™ Quiet Operation
Yes
End of Cycle Signal
Yes
Drum Light
Yes
FlowSense™ Duct Clogging Indicator
Yes
Wrinkle Care Option
Yes
Control Lock
Yes
Venting Option
3 Way Venting
4 Adjustable Legs
Yes
Remaining Time Display/Status Indicator (s)
Yes
WASHER THINQ® TECHNOLOGY:
SmartDiagnosis™ (v3.0)
Yes
Wi-Fi
Yes
Remote start and cycle monitor
Yes
Energy Monitoring
Yes
Smart Learner
Yes
Smart Pairing
Yes
PCC
Yes
Tub Clean Coach
Yes
DRYER THINQ® TECHNOLOGY:
SmartDiagnosis™ (v3.0)
Yes
Wi-Fi
Yes
Remote start and cycle monitor
Yes
Energy Monitoring
Yes
Smart Learner
Yes
Smart Pairing
Yes
PCC
Yes
MOTOR:
Motor Type
Inverter Direct Drive Motor
Axis
Horizontal
WASHER MATERIALS AND FINISHES:
NeveRust™ Stainless Steel Drum
Yes
Cabinet
PCM
Control Panel
Plastic
Top Plate
Steel
Door / Rim
Large Circle Chrome Rim
Door Cover
Tinted Round Tempered Glass
All Available Colors
Noble Steel (N)
DRYER MATERIALS AND FINISHES:
NeveRust™ Stainless Steel Drum
Yes
Drum Rear
Stainless Steel
Door / Rim
Large Circle Chrome Rim
Door Cover
Tinted Round Tempered Glass
All Available Colors
Noble Steel (N)
CERTIFICATION
AAFA
Yes (Allergiene cycle)
Intertek
Yes (Sanitary cycle)
WASHER POWER SOURCE:
Ratings
CSA & UL Listed
Electrical Requirements
120V, 10 Amps
Type
Electric
DRYER POWER SOURCE:
Ratings
CSA & UL Listed
Electrical Requirements
240V, 30 Amps
Type
Electric
BTU Rating
10,000 Feet
DRYER OPTIONS/ACCESSORIES:
LP Conversion Kit
383EEL3002D
Side Venting Kit
3911EZ9131X
Rack
Yes
DIMENSIONS
Product (WxHxD, inch):
27" x 74 3/8" x 32 3/4"
Depth with Door Open
(58" D with door open)
Carton (WxHxD)
30 1/16" x 79 11/32" x 33 23/32"
Weight (Product/Carton)
333 lbs/368 lbs
WASHER LIMITED WARRANTY:
Parts and Labor
2 Years
Direct Drive Motor
10 Years
Drum
3 Years
DRYER LIMITED WARRANTY:
Parts and Labor
2 Years
Drum
3 Years
UPC CODES:
UPC
195174000595